My Horse History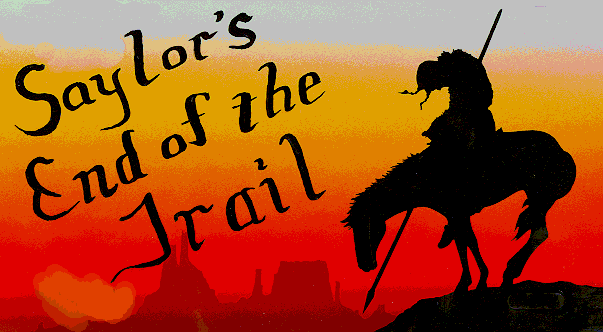 End of the Trail Riding Stable
9562E750N
Walkerton, IN 46574
tel. 219-586-7970 fax. 219-586-2677
email: endofthetrail@skyenet.net
Revised on Nov 12, 2000
Horses and I ...
I do not remember the first time I every sit in the saddle. I know it was, as it has been with my children, on the lap of my father as soon as I could sit up. Once balance was master, I was bouncing on, Rocky, my first pony at the end of a lead line, besided a father's long legged mare. I do remember getting into trouble, the day I brought Rocky into the house and he ate all the fudge my mother was making. As a three year old, it seemed only right to take my friend to my room to play.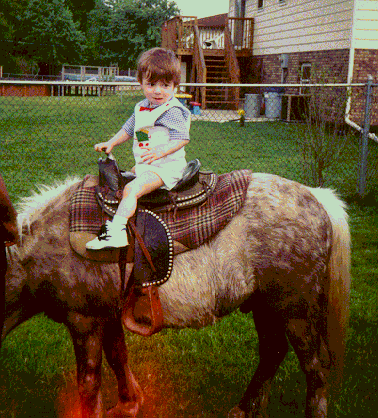 My folks were members of a saddle club and I have many memorys of parades, horse shows, and camping at state parks.
Upon reaching the proper age, I was enrolled in 4-H and though the years earned the right to ride at the state fair. Starke County Horse and Pony formed a judging team and in 1978 competed at Area 10 and went on to win the state title. The team did not win but did well at the National Quarter Horse Congress. I was a member of that team.
While at the National Quarter Horse Congress, I missed the basket ball try outs at high school. My coach offered me some great advise, his words were, "To make up my mine either basket ball or horses." That spring the Indiana High School Rodeo Assoc. sent a letter recuiting new members. I gained my folks permission and tried my hand at high school rodeo. It was horses for me. I rode my junior and senior years of high school.

After graduation I continued my education at Miles Community College, Miles Ctiy, Montana. I was given a rodeo scholarship which paid for my books and tutions. I spent three years refining my cowboy ways, attending college, rodeos, and working part-time as a ranch hand. I found another gift that I was blessed with, it seems that I have a way with computers.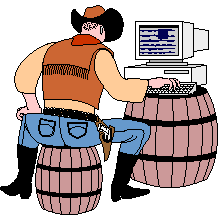 Upon returning home, while tring to get my first computer job, I worked with my father at the slaughter house. During the week I helped kill bulls. On weekends I rode bulls which often paid better. When I was not at rodeos my couins and I held horses shows at my fathers arena, become a 4-H horse and pony leader, and working horses for people.
Since I was riding well and enjoyed the rodeo, I fulfilled the requirments to compete and be a member of the Pro Rodeo Cowboys Assoc. I was doing well in the circuit but also landed a good job in the computer field. The job was a career but so was rodeo. I had the two balanced until, in walks the girl.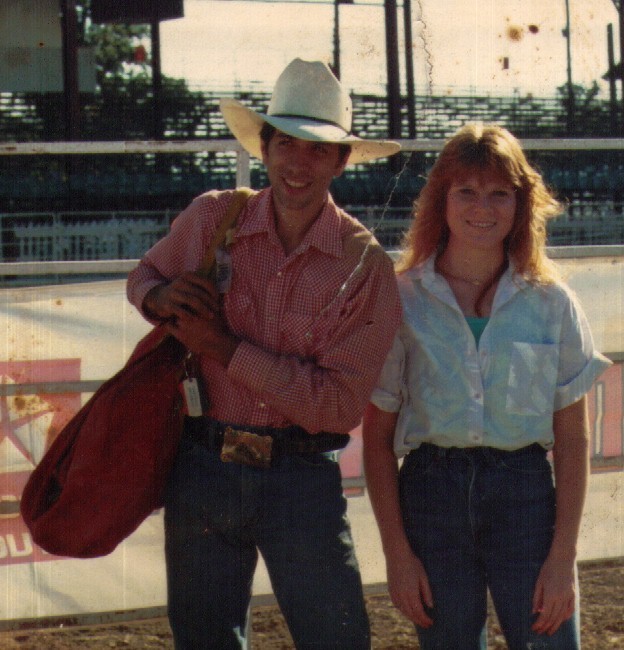 She did not slow me down, but help in many, many ways. We traveled the circuit on weekends and hurried back to jobs. After serveral years, we were married, began a family. I began a computer consulting service, bought some land and together began the End of the Trail Riding Stable.
We still rodeo when you can, work with young ones interested in the sport, promote some rodeo, run the riding stable, work, and raise a family.