[Home] [Hourly] [State_Park] [Camping] [Pony_Parties] [Petting_Zoo]
[HayRides] [Sleigh_Rides] [Carriage_Services] [Horse_Shows] [Rodeos]
[Map] [My Story] [My Resume] [Links] [Webrings] [Facebook]
End of the Trail Riding Stable
9562E750N
Walkerton, IN 46574
email: endofthetrail@eott.net
cell 574-532-1840
tel. 574-586-7970
fax. 574-586-2677
Revised on Oct 1, 2010
---
About the End of the Trail ...
... A fun relaxing ride on an open track and wooded trails

... Small informal groups

... Very gentle horses for the most inexperienced rider

... An experienced horseman rides with the group to help insure safety

... Everything is done by appointment only
Other activites include:
Pony Parties :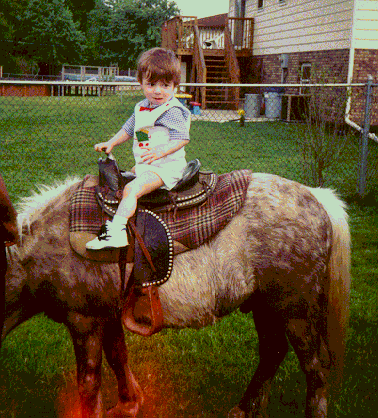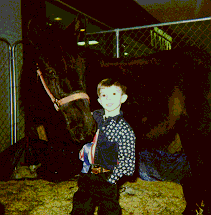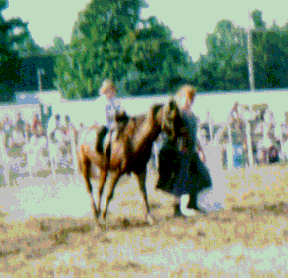 Give more than a GIFT give a MEMORY. Invite a pony to the child's party, for an hour the children will be led while taking turns riding the pony. Option #2: We offer our grounds to host your party. A wide open field to run in, a fanasty fort, (swings, monkey bars, and slide) to play on, basket ball, volleyball, nature hike in the woods, a pony ride, a horse-drawn wagon ride, picnic tables under a tent, and can start a campfire for roasting hot dogs, marshmellow and/or etc...
Romantic Carriage Rides :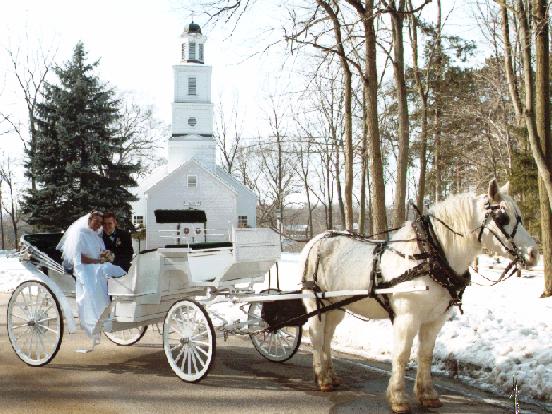 We can help kindle those warm heart fires. Weddings, Proms, Valentine's Day, Mother's Day, and Anniversaries are amoung the long list of special times that can be enhanced with a horse drawn ride.
Sleigh / Bobsled Rides :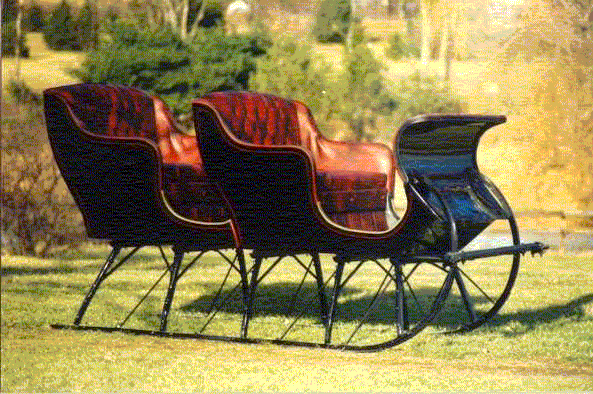 Winter does not have to stop the romance. We also have a sleigh, for that one horse open ride ( weather permitting*snow*).
State Park Rides :
We haul the horses to one of the local state parks and spend at least 4 hours in the park. We like to have 4 or more in the group, but often we have others who express interest in going. We may call them to join us to fill out the group/trailer.
State Park Camping Trips:
We offer camping trips with horseback riding. We enjoy camping and riding at many of the state parks. Brown County State Park is peaceful, wilderness riding, yet has very challenging trails and hills. It is not a recommended trip for the weak at heart, tender tussed, non-lover of horseback riding, want-to-be yahoo. We have a couple of real nice, level, local state parks (Patato Creek State Park, North Liberty, IN and Tippicanoe State Park, Winamac, IN) to get folks started. We will provide the horses, a campsight with a fire, and food ( if you can eat what we eat -- campfood, beans, burgers, hotdogs, chips, etc...). We will setup camp Friday afternoon/evening. If possible, we may take a short ride, before doing chores and beddin' down. Upon waking and feeding, both the horses and our bellies, we will be ready to ride the hills and trails on Saturday. Depending on the saddle sores, usually not on the horses..., we will ride Sunday morning and then break camp that afternoon. You provide your own bedroll, tent, camper, or whatever... clothing apporpriate for the weather (boots, long pants and shirt are recommended), and anything else that you deem necessary. Again, We do everything by appointment and compile a list of others who express interest in going. We like to have 4 or more in a group and may call them to join us, in order to fill out the group/trailer. If you have interest, PLEASE, contract us.
Group Outtings :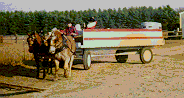 We offer many options for group outings. We have hosted school groups, church youth groups, campfire, daycare centers, and company parties. Group trail rides, hayrides, campfires, hog roast, cookouts, farm animal petting zoo, volleyball, and basketball are among many options offered.
Rodeos :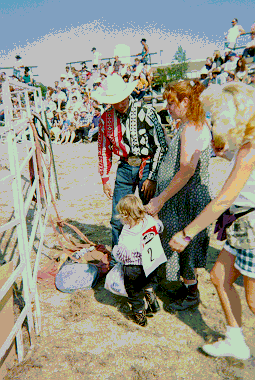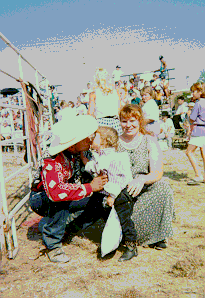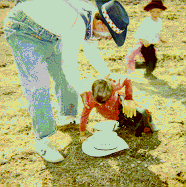 The End of the Trail Riding Stable brings family entertainment in the form of PRCA (Pro-Rodeo Cowboy Assoc.) and Open Rodeos.
Additional services:
Breaking : Enjoy green breaking and/or working the problem horse. We employ a resistance free training method mixed with horse psychology.
Boarding : Will board animals; short or long term arrangements can be made.
Breeding : Have Quarter Horse, Haflinger, and Appaloosa studs and access to studs of various breeds.
Buy*Sell*Trade*Consignment : We are connected with many horsemen and will assist you on your quest. We receive many calls from both buying and selling parties. When possible we assist in matching good homes with good horses.
Hauling : We are available to haul your animals and/or equipment.
Other Trails to follow: